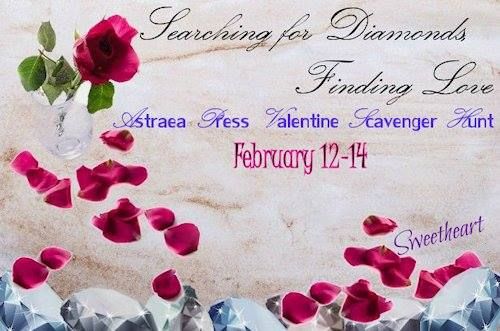 I'm so excited about this next blog hop! I'm part of a wonderful anthology called, "Love and Diamonds". Just in time for Valentine's Day. My story is called 'The Best Catch' and is a 'retelling' of how I got engaged... from my now HUSBAND'S point of view ;) No, I never actually asked him if any of what I wrote was going on in his head ;) But I like to think it was. We dated after knowing each other a year... we got engaged 3 weeks later. How did we end up on the fast track to the altar? You'll just have to read and find out ;)
You can pick up your copy HERE:
AMAZON
BARNES AND NOBLE
Now for the best part.
What's better than a great book, you ask?
Five great books! (EXCELLENT!!!)
The
Seeking for Diamonds, Finding Love Scavenger Hunt
is underway, and here's how you can win:
1. Find the secret word in the title image at the top of this post. (Hint: It begins with a "S".)
2.
CLICK HERE
to enter the secret word in a secure entry form.
3. Visit the other 14 participating blogs. Each has its own secret word. You can enter the secret word for each and get a total of 15 entries in the Scavenger Hunt contest!
But wait!!
Before you go running off to the other posts, you might want to know what you could win. :) We are giving away six book bundles, each with FIVE BOOKS in them! Yay!!!!! Scroll down to see the book bundles. Then keep scrolling because the link to the other posts is below that.
Good luck!!!
Now for all those other blogs and their secret words!
Good luck! And be sure to add Love and Diamonds to your TBR pile on Goodreads if you haven't already!
AP Anthology Blog hop for February 12-14.
(Linkup closed)
HAPPY VALENTINE'S DAY FROM ALL OF US AT ASTRAEA PRESS!!!