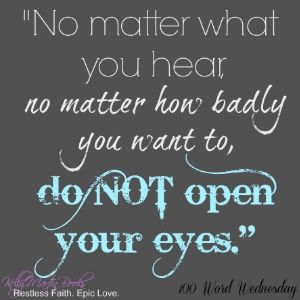 As I went to get the rolls out of the oven, he raced in, grabbed me from behind with his hand clamped over my mouth and took me back into the linen closet at the end of the hallway. His breath was swift as he peered around the corner then placed his hand gently on my cheek, "No matter what you hear, no matter how badly you want to, do NOT open your eyes."
I nodded and obeyed, hearing the door shut in front of me.
I cringed, but didn't open my eyes.
After an eternity, my door opened again. "Lily." his voice shook as he pulled me to him. "It's finally over."
See what the other ladies came up with. :)