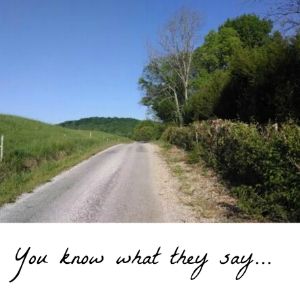 I haphazardly threw my last shirt into the suitcase and slammed it shut. There, I was ready.
I looked back to see the disapproving look on his face, but he didn't try to stop me. I didn't expect he would.
I drove to where I wanted to be... where I'd be taken care of.
With suitcase in hand, I knocked on the door. After a few knocks, my mother answered.
"Can I have my old room?" I asked.
"Um... you can have the couch." She said as a moving man with boxes walked by me.
~*~*~*~
Check out the other blogs that participate in 100 Word Wednesday:
Wendy Knight, Author:
www.wendyknightauthor.blogspot.com
Alison Woods (Peering Into. . .):
http://alisonmillerwoods.wordpress.com/
Jessica Winn, The Distracted Writer:
http://thedistractedwriter.com/
R.K. Grow:
http://www.rkgtheauthor.com/
Stephanie Worlton's Kreating Krazy blog:
http://stephanieworlton.blogspot.com/
Leah Sanders, inklings:
http://inklings-leahsanders.blogspot.com/
Laura D. Bastian
http://www.lauradbastian.com/
Jaclyn Weist
http://jaclynweist.blogspot.com
Amryn Scott
http://wildscottkids.wordpress.com/
K.R. Wilburn
http://www.krwilburn.com/my-blog.html
Lindzee Armstrong/Lydia Winters
http://lindzeearmstrong.blogspot.com
Kat!e Larson
http://katesnovelidea.blogspot.com
Miranda D. Nelson
http://www.mirandadnelson.blogspot.com/
Angela Schroeder
http://angelaschroederauthor.blogspot.com/