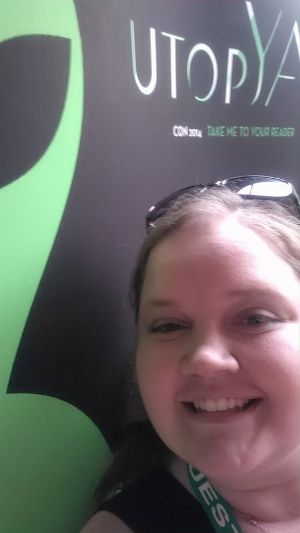 This was me at utopYA 2014 this year <3 (Which makes sense since it IS 2014.) The theme was 'Take me to your reader' so when you see aliens, that's why.
UtopYA is a convention in Nashville with YA/NA authors/bloggers/fans. It is one of the most awesome experiences you can have :) **Note the smiling face...**
On the utopYA facebook page, we were challenged to write out our #utopYAResolutions Sort of like New Years Resolutions, but more about what we want to accomplish before next year's conference. I have a few. Some are HUGE-- Some are measurable -- And some are dreams. But I'm going to put them all here and update them throughout the year to see how I'm doing.
utopYA Resolutions for 2015:
**Top 1000 in Amazon
(especially in a new category since I'm writing in new genres this year-- Regency and NA)
**Be in the local paper
(I won't get into the reasons why I haven't been here ;) )
**
Come to terms with the accent
. Friends, I have a very southern accent. I live about an hour from Nashville. It comes out when I'm nervous. Heck, it comes out all the time. It is very intimidating to speak in front of people who don't have accents (at least it is to me). I didn't realize how hard it was for me until utopYA this year when I had a table and people came by to talk to me-- the UPSIDE-- I sold 2 books simply because they liked my accent. SCORE!!
**
Be a more confident speaker
. I have all of these ideas I *want* to say. I can write them all out. I can post on message boards and facebook until my fingers fall off and I'm fine-- BUT make me talk face to face with someone and I FREEZE (which is odd since I'm a teacher.) Part of it is the accent again, and part of it is I'm SO SCARED of either saying something stupid or saying something as a joke and accidently offending someone (it's happened-- and I think I cried a week over it). SO, that is something I really need to work on.
**
Start a vlog.
I have a youtube account and I've made videos for my facebook page before, but I'm going to do a vlog at least 2 times a month for youtube. (My legs turn to jello just by typing that ;) ) But I'm going to do it. <3
***** DAILY RESOLUTIONS *****
***Work on my social media daily.
I have
tumblr
(which I'm fangirl enough to LOVE!!!),
facebook
,
twitter
,
pinterest
, etc. I think I'm on pinterest the least.
***Write 2,000 words a day--
not counting blog or facebook posts ;)
***Make 1 meme every day.
I use picmonkey.com and it's super easy. I just need to DO IT. Imagine the collection I'd have by the end of the year? The content? The pictures I could use for promotion??? I'm getting giddy all thinking about it.
********************utopYA Dream*********************
**Be on a panel ;)
Might seem strange after my 'Be a more Confident Speaker' thing, but my big, huge ultimate sort of awesomeness would be on a panel. What would I talk about? Hmm...
Becoming more confident ;)
Writing different genres.
Writing/publishing 10 books in 2 years....
How to write quickly...
Finding time to write with a family, a full time job, and that doubt bubble following over your head daily...
AND-- hopefully-- 'What a difference a year makes' ;)
There you have it. My utopYA resolutions! Basically, it's me being more confident with ME, getting over myself, and busting out of my shell. I can SO do that! I'm ready.
Are you?
~Kelly