Videos By O is one of my favorite pages on facebook. Both of my book trailers came from O, and I couldn't be happier. She is being super nice and giving away a free teaser trailer!! EEP! Authors, this is something you definitely want.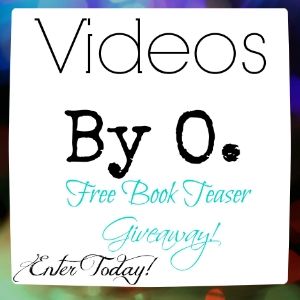 Free teaser includes cover, tagline, author URL, music or sound effect and moving background.
If you like what she does, you can request a book trailer. Think you can't afford one? I'm telling you, you can. She is super affordable. I'm a teacher and a writer... you know I don't have a lot of money ;) And I bought 2 of them. And she does quality work. She should charge 3x more than she does (but don't think I don't appreciate her rates).
Last day to enter is the 8th...
Here are my book trailers from Videos by O. Remember these are trailers. The prize you can win is a teaser (shorter of course), but you can sort of see her work here.
a Rafflecopter giveaway