I've never been to a convention before... like... ever.
I take that back. In high school, I attended the Beta Club convention at the Opryland Hotel. If you've never been to the Opryland hotel, go! It's awesome!
Anyway, I've never been to a WRITER/READER/BLOGGER convention before. My going was a last minute decision.
My publisher was all, "Hey wanna go?" I was all, "Sure!" So I went :)
*Pic heavy from here on out... you've been warned :)*
So, the husband decided I needed to actually look decent for this thing. If you've read my 'Little Red Hen' post (and you should! It has Benedict Cumberbatch in it... reading a story. Know who he is? You SO should :)) this is a big step for him (my husband, not Benedict Cumberbatch).
My husband said I was meeting important people and needed to look like it. So, he bought me these. They were sparkly. They hurt like heck! I didn't care.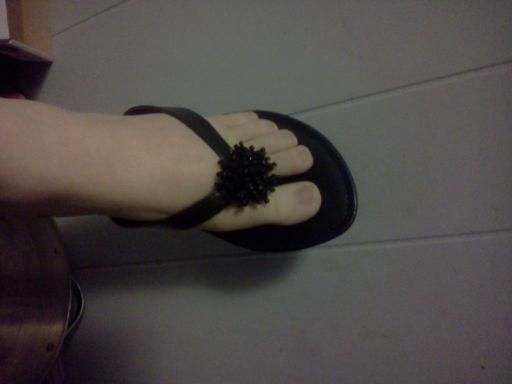 The lady next to me at one of the panels CHELSEA FINE (@chelseafine) had on THESE shoes... I think my feet got off easy ;) (She's one of the funniest, most polite people ever AND the first person to talk to me at the conference. Watch her video. It's awesome!)
SO.
I drove to Nashville on Friday. I live somewhat close (no, you can't have my address ;) )
Let's just say a trip that SHOULD have taken an hour, took nearly 2.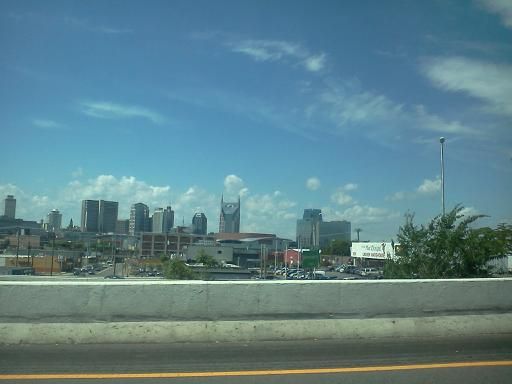 Yeah.
Don't worry. YES, I was on the interstate when I took that picture. NO, I wasn't moving. Sigh.
I also got lost which was awesome. LOTS of prayers going on there. God got me there. Score one for God and the people who honked at me when I didn't know a roundabout had 2 lanes! Whoot!
I FINALLY found the place then immediately emailed my publisher, "Did you just make me come here to be some sort of sacrifice?"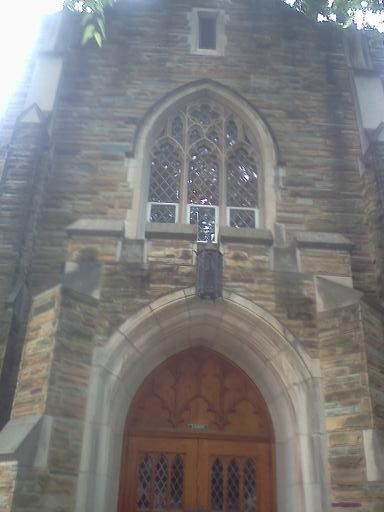 RIGHT?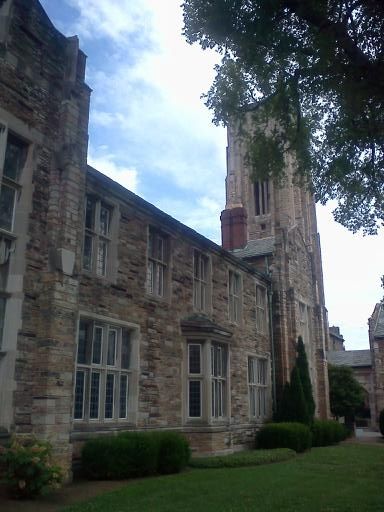 WOULDN'T 'SACRIFICE' be YOUR first thought too?
Okay, maybe not ;)
It was a BEAUTIFUL place once you figured it out. I loved walking around during break and taking pictures. (I won't show you all of them).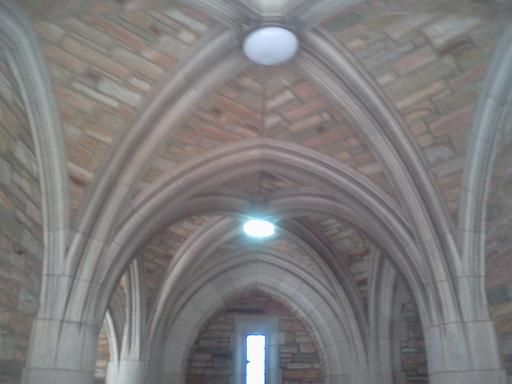 Okay, I might ;)
It was a gorgeous place!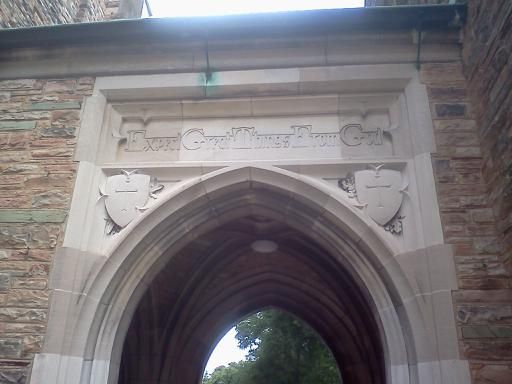 ~EXPECT GREAT THINGS FROM GOD~

So I got there... looked through the program when out of the blue I saw...

THIS!!!!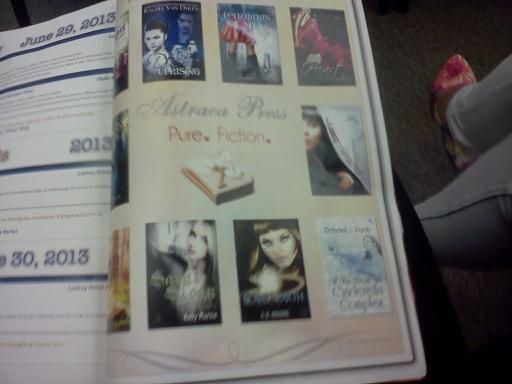 Do you see it?!?!?! At the bottom is the cover for SAINT SLOAN... yeah, MY SAINT SLOAN!
EEP!
I wasn't expecting that.
I nearly said, "THAT'S ME!!!"
But I was good and didn't.
I think I snorted though because the girl next to me (not the one with the awesome shoes) sort of looked at me funny.
Sigh.

ANYWAY,

Inside here is a picture of UtopYA con from the inside.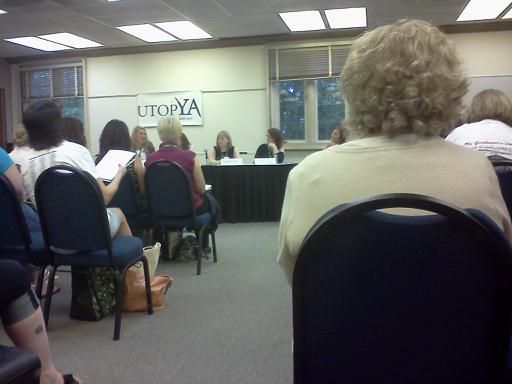 THAT is bestselling authors
Samantha Young
,
SM Reine
,
Quinn Loftis
, and
M. Leighton
talking about writing for multiple audiences.
PR extraordinaire,
K.P. Simmon
, moderated the panel. Chelsea Fine was sitting next to me. Yeah. It was a good place to be at 10 am on a Friday morning :)
BTW, this fuzzy picture is where I ate lunch. I think it was an old church. It was pretty spectacular inside! And the food was good too!!
I ate lunch with 2 fabulous authors that I just met at UtopYA.
And
Look them up!
I'm on the left. She's on the right. Ain't she cute?
It's at this time that I should probably address something.
That picture up at the top right of this blog where it talks about me?
It IS me....
ME from about 6 years ago.
I lost over 80 lbs after my 2nd daughter was born.
I've gained ** pounds back.
So yeah... Sorry about that.
I'm a little bigger now.


Which prompted me to write B.I.G. IS BEAUTIFUL, coming out Sept 3rd. About a not so skinny girl in high school. It has mystery, romance, and drama (oh, the drama!) Look for it in September!
So... to get away from plugging my books lol
C.J. Redwine
said in one of her panels that she used a certain method to get high word counts and write quickly. She writes down the numbers ever 500 words: Basically...
4.0
4.5
5.0
5.5
etc.
That lets her see how much progress she's made writing. I decided why not?
Here's mine...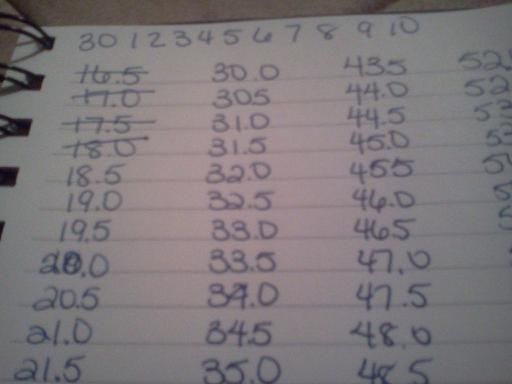 It was an amazing time! I met great people and learned lots of things I didn't know.
I was also away from home for 2 days (I mean, I drove home in between, but still... wasn't home during the day)
So after the glamour of Friday and Saturday, Sunday after church I was met with...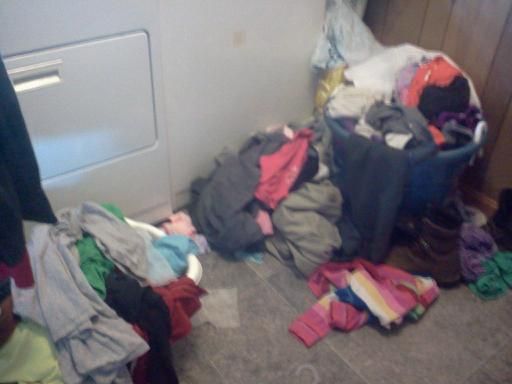 Yeah.
;)
LOOKING FORWARD TO UTOPYA con 2014!