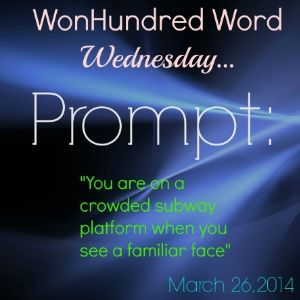 A Familiar Stranger (100 words):
It happens when you are minding your own business... going your own way in the world. That's when the world decides to fall apart. I stand on the subway platform freezing, just like I had done every morning since I had been forced to move.
I have to squint through the swirling snow to make sure my eyes aren't playing tricks, but there is no doubt. Same dark hair. Same haunting blue eyes. Same dab of red on the crease of his mouth.
Only it's not. He's been dead for two years.

Please leave a review in the comments below.
Visit these other blogs and read their 100 word stories...