Giveaway at the bottom of this post ;) $20 Amazon gift card, ebooks, and paperbacks. Be sure to enter. You can 'tweet' once every day for more entries.
I've been having a great time counting down until the release of The Afterlife of Lizzie Monroe (10 days!!! EEP!!) I've had some amazing authors help me by donating prizes for me to give away. In turn (and they didn't know this when they donated... how cool is that!?), I'm spotlighting them on my blog. We've had Wendy Knight, Cydney Lawson, C.S. Moore, and Jo Grafford so far (click on their name to link you to their post).
Today we have...
J.F. Jenkins!
J.F. Jenkins lives in Minneapolis Minnesota with her husband, son, and two cats. She graduated from Bethel University in 2006 with a degree in Media Communication with minors in both writing and film. When she is not busy writing, she spends her free time playing games, reading, and spending time with her family.
She has a bunch of books, but she's giving away
THE CORRUPTION OF MILA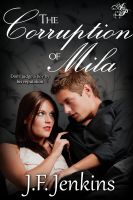 Mila takes a hands-off approach to dating. She's independent and picky and thinks she knows it all. When her best friend decides to set her up on a blind date with a guy who answers to the name of Jax, Mila decides to take a leap of faith. After all, with a name like Jax, how can he not be a dreamboat?

Like most blind dates, however, Jax doesn't meet the expectations that Mila created in her imagination. With how badly she's struck out in her past relationships, is that really such a bad thing?
FIND ALL OF J.F.'s books on her Amazon author page. CLICK HERE.
I want to thank J.F. for being so nice and donating this ebook!
Only 10 more days until the Afterlife of Lizzie Monroe!
If you want to read a little bit of a teaser, I have the prequel free on wattpad. Now, it doesn't give any spoilers for The Afterlife of Lizzie Monroe, it does show Lizzie's life in 1861 (you know... before she was a "zombie"... well, she's not exactly a zombie. You'll just have to read it and find out ;) ) ANYWAY, the prequel is all about how she met Daniel and fell in love with him. It shows some of her quirks and hopefully gets you excited about reading The Afterlife of Lizzie Monroe-- after all, she had to have a LIFE before she had an AFTERLIFE.
~Kelly