Giveaway for a $20 Amazon Gift Card, ebooks, and signed paperbacks at the bottom of this post. :)
Hi guys! I'm celebrating the release of my 5th book, The Afterlife of Lizzie Monroe, by having a rafflecopter giveaway AND an author spotlight of the wonderfully nice people who donated their books for this giveaway. I appreciate them so much!
So far, I've spotlighted (click on their name to take you to their post):
Jo Grafford,
Cydney Lawson
, and
Wendy Knight
.
Today's spotlight is...
C.S. Moore!
I am a small town girl that has always had her nose in a book. A few things about me; I love writing stories, but love reading even more, and I enjoy cooking, but prefer eating. I love science fiction and fantasy and could probably quote every line from the Lord of the Rings trilogy extended directors cut. I love life and find inspiration for fantastical stories in the world around me.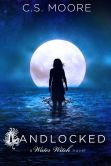 Maribel dreams of the ocean, but has never been.
Her overprotective aunt and uncle have kept her away from the place that calls to her at night. And trying to push them into taking her isn't an option. She knows how much it hurts them to talk about the very thing that took her parents' lives so many years ago in a boating accident. In fact Maribel never pushes anything with her loving adopted family, until she meets Jaron.
He is unbelievably hot and the only boy that she has ever been attracted to. For the first time in her life she feels exhilarated and truly alive. She can tell that he feels it too, so why does he keep disappearing on her? And why is it that as soon as her secretive brooding knight shows up, her world is turned upside down? People are following her, she's having terrifying nightmares, and she suddenly gets the feeling that her beloved aunt and uncle are keeping something from her. Can she unravel the secrets of her past without her life falling apart along the way? Will the truth forever change the way she sees the people that she loves?
You can find the buy links to all of C.S.'s novels at her Amazon Author page: CLICK HERE.
C.S. is giving away one ebook copy of Landlocked! Enter to rafflecopter for a chance to win :)